Non Sterile Latex Surgical Gloves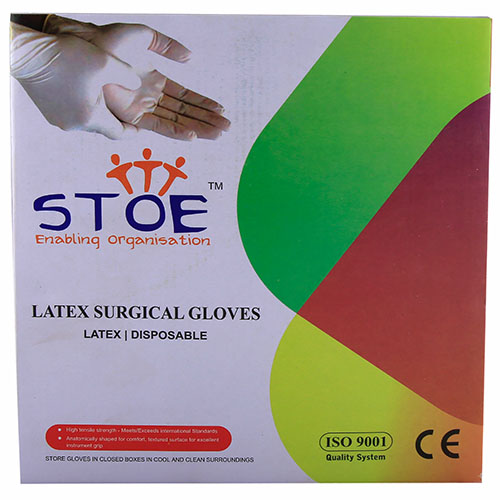 Business Type
Manufacturer, Exporter, Supplier
Material
Latex
Length
10-15 Inches
Color
White
Click to view more
Product Details
Feature
Easy To Wear, Heat Resistant, Skin Friendly, Water Resistant
How Are Surgical Gloves Manufactured?
The manufacture of surgical gloves requires different raw materials. The manufacturing includes several processes along with the testing of gloves in the conclusion.
Raw Materials
The raw materials required for the manufacture of surgical gloves usually are obtained from sheep wool or lambskin.
Then depending upon the material of the gloves the raw materials are chosen such as natural rubber latex or synthetic materials to make nitrile or vinyl surgical gloves.
Shaping
The first process starts with molding hand-shaped ceramic on a conveyor. They are then dipped in large wash tanks which are filled with hot water and chlorine. After this process, they are dried up and cleaned.
Coating
After the moulds are cleaned there then coated by dipping them into a calcium nitrate and calcium carbonate mixture. After these are dried they are then dipped in two tanks of materials depending upon the surgical glove type i.e, latex, nitrile, or vinyl.
The thickness of the latex gloves is then calculated by the timing of how long they are kept in the tank. Once they have been processed they are spun to remove the excess latex and chemicals.
This process takes place multiple Times making the glass stronger and rid of excess chemicals and latex. They are removed by using air jets and after the separation from the molds they are tested and shipped to their respective places
In the case of nitrile and vinyl gloves, the malls are dipped in large tanks that are filled with liquid rubber and then are baked to dry them. After this, they undergo chlorination or coating with a polymer which makes them easier to fit and put on.
After the coatings are added to the glass they are removed from the moles and are then tested to make sure they are not sticky or causing any infections. Once they are tested they are shipped off.
Testing
Testing of the surgical gloves is one of the most important processes to make sure that they are completely safe to use and don't cause any reactions as such. This process is very important since gloves are used in medical surgeries and a defective product would result in life-threatening risks.
The gloves are pinhole leak texted to check that there is no liquid flow towards the skin. They also go through dimension tests to make sure that day can be worn or taken off comfortably.
Sterile testing is one of the most important tests to check the tensile and elongation performance of the gloves. Extra tests are also conducted to check the quality of the gloves.
Therefore the brands should be very reliable and trusted when it comes to the manufacture of surgical gloves. Stoegroup is one of the leading surgical gloves manufacturers in the country. We provide the perfect quality surgical gloves of all types.
We offer latex surgical gloves in all forms such as powdered or non-sterile. The surgical gloves manufactured are made from high-quality raw materials and are tested to avoid any defects.
We also manufacture surgical disposable gloves which provide a proper level of protection and can be disposed of without creating any problems. They are tested accurately and are used by many dentists, nurses, and doctors in India.
We provide latex surgical gloves at a very reasonable rate which are available in different sizes. Diseases of the surgical gloves are divided accordingly into different categories depending upon the material and manufacturer.
Therefore the manufacturing of surgical gloves takes place for various uses and has a list of advantages.
Looking for "
Non Sterile Latex Surgical Gloves

" ?
Box